Susan Scott- Sales/Teacher
I am originally from Cary, NC and have lived all over NC, some in SC, VA, and MD. I grew up with various handmade pieces of clothing from my mom as a kid, so I'm sure she has a lot to do with my creative mind. My mom signed me up for a sewing class one summer at G Street Fabrics in MD when I was eleven. I wasn't the happiest about it, but after was so excited that I signed up for every class after that from pattern making to various apparel making classes. I was hooked and got my first Bernina 1001 not long after that. Sewing has continued to be in my life through working and growing up in a bridal and formal wear shop, taking high school fashion design classes, sewing costumes for family and friends, and most recently quilting with my mom and sewing various items for charity through a sewing ministry at church. One thing not everyone knows about me is that I was a professional photographer for many years taking pictures at weddings, special events and even running multiples portrait studios.
My husband Luke and I have two fur babies named Blue and Beulah.

Mary Ann - Sales

I started sewing in middle school through home economics classes. I dabbled with sewing through adulthood but raising a family was my top priority. It didn't leave much room to sew. When my youngest daughter went off to college I decided I needed a hobby and found how to make a quilt on the internet. I made my first quilt this way and my youngest still uses it. Halfway through making that first quilt I decided I need a better sewing machine. My oldest daughter worked with someone that had a Bernina. My daughter and I found Sew Much Fun and I bought my first Bernina that day. That was 12 years ago and one of the best investments I ever made. I have learned so much not only quilting but have added embroidery to my sewing skills. I am very excited about working at Sew Much Fun. There is so much to learn and many new friends to make. I have 3 daughters, 1 granddaughter and a very support husband that lets me live my dream every day.

Carolyn - Sales
I was born into a large Minnesota family of sewists. My first quilting experience has been told to me hundreds of times - singing commercial jingles under Grandma's frame at age 3 as she and my great aunts stitched. The love of fibers is in my DNA!

I started out using Mom's leftover fabrics, embroidery floss, and a needle or two by the time I was 6. My Barbie dolls even had handmade shoes! I spent many wonderful hours on crochet, felt applique, and crewel work. I was in middle school before I began using a machine on a regular basis. Mom taught me the basics as she created her own pieces.

As a young family, my husband and I relocated to the south. For many years, there was little time to sew "for fun". Making my nursing uniforms and a few dresses for our daughters filled my sewing hours. I began making very simple quilts about 10 years ago.

Fast forward to the present. I have more time to sew the things that make me smile. I love, love, love sewing on my machine - a BERNINA 790Plus. Quilts and bags are my favorites, with loads of color. Each day is a new day to explore what can be done with fabric, thread, and imagination. I still have many goals to reach when it comes to sewing, including sharing the joy of creating with our granddaughter! I am sew happy to be able to share the joy of creating at Sew Much Fun!

Lucille - Sales

I started sewing around the age of 10 when I joined girl scouts. I had fun making clothes and dresses during high school. Married my high school sweetheart just before he went to boot camp.
We have 4 children, 3 girls and a boy. I loved dressing our 3 daughters in matching dresses for as long as they let me. Made all the usual dresses, gowns and even a wedding dress for a family friend. Life was sweeter when we were blessed with our first granddaughter, and I began smocking dresses for her.
After many years in the corporate world, it was time to retire. I needed a hobby or something to keep me busy. A very dear friend introduced me to quilting. It is an addicting pleasure! Made numerous quilts quilted them using edge to edge embroidery. I was totally hooked. Quilting was my sanity during the shutdown, it still is! My latest challenge is bags.
I started working at Sew Much Fun in Sept 2021 and was introduced to the world of Bernina. All I can say is wow. Bought my first Bernina and absolutely love it! Why did I wait so long to become a proud owner of a Bernina sewing machine. I love working here and seeing all the creations that emerge from our customers!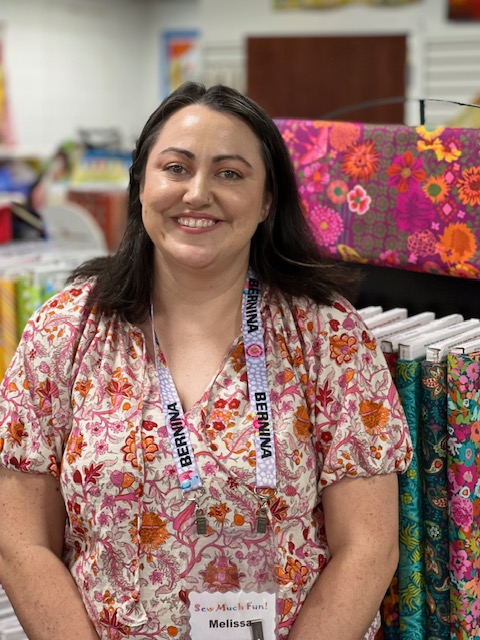 Melissa - Sales Staff